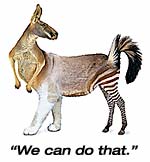 A premier digital arts studio, Image Odyssey provides a one-stop shop for all of your digital arts needs, from web site production and hosting, to graphic design and even photography.
Whether you need a slick new logo, a sizzling new e-commerce site, or an awesomely cool digital image, we can do it. Staffed by seasoned experts, we're masters at conceptualizing and producing effective online and print communications – 100% satisfaction guaranteed.

We invite you to view our Portfolio, learn about our diverse clients and projects, and read about the range of services we provide.